Pork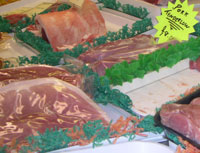 A selection of our Pork
With succulent meat and crisp, mouth watering crackling, Pork is a firm favourite among our regular customers.
Our Pork is sourced mainly from the traditional Pig rearing region of East Yorkshire. We also offer meat sourced from Wharfedale, Airedale and Nidderdale through ThreeDales.
With Pork leanness is not the highest priority as this can lead to dull, dry, flavourless meat.
Our most popular cuts:
Chops - a traditional favourite
Belly Pork
Pork Steaks
Pork Sausage
Pork and Apple Burgers - Ideal for the BBQ season