Meat Packs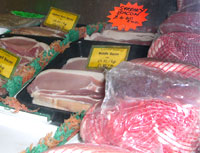 Our Meat Display
Here at Jackson's we believe that the needs of our customers are paramount and as such we are able to offer mixed meat packs to your exact requirements.
Perfect as a gift or as a treat for yourself, we build our meat packs around you and they can contain any meat or cut of your choice.
The care that goes into our meat packs means they must be pre-ordered - Please contact us to discuss your requirements.
Popular meat packs include:
Beef - Sirloin Steaks
Award winning Sausages
Game