Game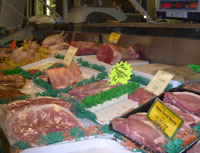 Our Meat Display
Based as we are in the Yorkshire Dales, our Cracoe shop is ideally located to offer a wide selection of fresh, locally sourced game.
The Dales are renowned for diverse landscapes such as heather moors and woodlands that ensure our supply of Grouse, Partridge and Pheasant.
We offer our customers all traditional game meats such as Hare, Venison and pigeon.
In addition, we offer more exotic and specialist game meats such as Ostrich, Wild Boar, Crocodile and Kangaroo. Please contact us to discuss your requirements.
Our most popular Game meats:
Mixed Dice Game
Venison
Wild Boar
Pheasant
Grouse