Beef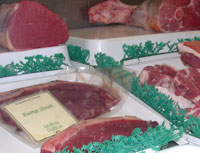 A selection of our Beef
A firm, traditional favourite in household's across the country.
With consumers now looking for traceability in their food, we can guarantee that all our Beef is sourced from the Yorkshire region.
Much of it comes from Wharfedale, Airedale and Nidderdale through Ilkley based ThreeDales.
We now offer our customers Limestone Country Beef. These are prime cuts from cattle reared on the Limestone fells around Darnbrook in the Yorkshire Dales.
Our most popular cuts:
Rump and Sirloin Steaks
Neck cuts - perfect for braising
Mince - a favourite all-rounder
Flank cuts - perfect for stir-frying